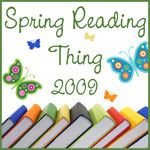 Anyone who knows me gets early on that I'm a book lover and a huge Karen Kingsbury fan! This is Karen's newest novel out and halleluiah for the library I say because my budget would never allow me to purchase all these wonderful books. :)
I just finished reading Take One, the first in the Above the Line series and shockingly enough, I loved it. One thing about KK's books is that they are seamless and fluid, you don't even realize that you've blinked and read 5 chapters.
Take One is the story of 2 friends who follow the call of God from the overseas mission field to the mission field of Hollywood film producing. Intriguing right? I was carried along with the characters as they stepped out by faith, struggled with fear and compromise, overcame adversity, discovered true friendship and were drawn closer to God through it all. This book is so culturally relevant for today, beckoning us to question the kind of stand we might take if called upon to give an account to the hope that lines within us. In a day and age when 'anything goes', this book and its story is set apart as different and compelling. And hopefully it will encourage the readers in their daily lives.
I was thrilled when I heard that this new series would include characters from her Redemption series
which btw was my all time fav series ever
. I loved catching up on the 'Baxter family' and 'Baily and Cody' too! If you haven't yet read that series then for goodness sake START there and be drawn into the lives of these wonderfully rich and moving characters. It is a MUST READ! :)