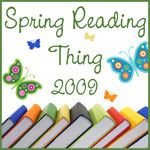 I look forward to this bloggy carnival every.single.season. And without fail,
Katrina
never lets me down. Over at her blog,
Callapidder Days
,
Katrina
is hosting a Spring Reading Thing 2009. You can see all the FAB books that everyone is reading and read their reviews...if you love to read, then join us for the fun! :) I have learned to start my list small then add to it if I have time. So, here is my short but sweet list...