The idea behind Say it FORWARD is a favorite of mine, now if I could just get myself in order to remember to post it each Friday I'll be doing good! Ahem. Sayin' Thank You is one of the best things you can do for someone else I believe. It is the easiest and smallest thing yet it hold incredible weight in another person's life. No, blogging isn't everything but I can't tell you how many times the encouragement God has given me has come from this blogosphere in one form or another. Ok, so I remembered this week...and here we go! :)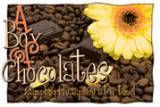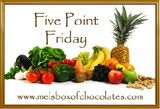 This week I'm highlighting a longtime friend of mine that I just adore! Her name is
Mel from A Box of Chocolates
and we have been friends since we were
gosh
, 13?? We lost each other for a while, both went off to college etc, but somewhere along the line we picked back up with our friendship even though we live in different states now! And I've been so blessed by her...
she
is a faithful commenter and always always writes me back when I comment. ;) Her blog is a real treat so
like her
.
She
hosts a very cool
5 Point Friday
with great ideas for losing weight, etc cause
THIS girl has done it
!!! Visit
her blog
for great giveaways, recipes, teacher thoughts (cause she's one great teacher) and sweet picts of
her
adorable kids!! :D I
love
having
Mel
as a friend and I love having
her
as a blogging buddy! THANK YOU,
Mel
for being such a wonderful Commenter...love ya!!