BlogDay was created with the belief that bloggers should have one day dedicated to getting to know other bloggers from other countries and areas of interest.
On that day Bloggers will recommend other blogs to their blog visitors
.

With the goal in mind, on this day every blogger will post a recommendation of
5 new blogs
. This way, all blog readers will find themselves leaping around and discovering new, previously unknown blogs.

One long moment on August 31st, bloggers from all over the world will post recommendations of 5 new Blogs, preferably Blogs that are different from their own culture, point of view and attitude. On this day, blog readers will find themselves leaping around and discovering new, unknown Blogs, celebrating the discovery of new people and new bloggers.
Recently, I've stumbled upon quite a few new delightful blogs...and just in time for Blog Day baby!  :)  The first one I'm happy to have found is
Kori from Life as a CFers Wife
.  To be honest, I have no clue how I found
Kori's
blog but I'm so glad I did!  Her testimony is so clear even in the midst of very difficult circumstances.  So go on over and visit
Kori
and leave a comment...cause after all it IS Blog Day and that's what you're supposed to do y'all!!!  :D
Next is
MckMama from My Charming Kids
...I am sure that everybody and their uncle has already heard of this
blog
and has been reading except for me but whatever.  Better late than never!!  :)  Wow, head on over there and read an incredible story of family and faith!
Next on my wonderful list is
Genny from My Cup 2 Yours
...she is just a delight, her posts are funny and most often thought provoking...they can almost always get me to comment!!  :)  She is such a transparent encouragement to read...seriously, get on over
there
!!
Next is definitely a newer site...but a sister to 5 Minutes for Mom which has been around a while!  But I just LOVE
5 Minutes for Books
....oooh, it sooo feeds my book addiction!  
They
are always talking about good reads or giving away good books or hosting carnivals...all kinds of book-lover fun!!  Go check em out...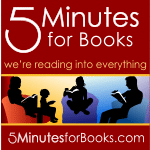 Next is a brand new read for me...
The Riggs family blog
...stumbled on these guys via the
Red Letters Campaign
.  This dear family has opened their heart and home to adopt 3 children...they are facing difficult circumstances in their family right now and I'm sure could use a visit from y'all and a encouraging comment!  :) 
~ OK...those are my new reads!  Hope you enjoy clicking around and visiting them...let me know if you participated in Blog Day and I'll come on by and check your new reads out!!!  
Happy Blogging!  :D  ~